featured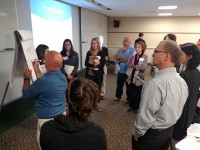 EDUCAUSE-NERCOMP Workshop Series for Managers – Part I – Register Now
The EDUCAUSE-NERCOMP Workshop Series for Managers, a joint venture collaboratively developed by NERCOMP and EDUCAUSE, has been serving early-stage managers for eight years. The Managers' Series, as it's commonly called, has helped close to 2,000 managers across the country develop their skills and, as importantly, become part of a cohort that grows as their jobs, and often institutions, change.
The curriculum is targeted at early-stage leaders: recently appointed or aspiring managers or supervisors. The program focuses on the practical knowledge and skills needed to succeed in management and leadership in higher education. Topics to be covered in the first series include: interpersonal communication skills; budget and finance; managing time and priorities; project management; leadership modes; and performance management.
Don't miss out on this importunity, register now for the fall session.
The dates of the workshop are September 28, October 19, and November 14, of 2016.
The class will be held at The College of the Holy Cross.
About Us

NERCOMP cultivates communities of practice around information and technology, promotes strategic partnerships, and advances innovation and leadership in educational institutions across the Northeastern United States.
Learn More About Us
Our Vendors

STOP Security Tracking
STOP Security Plates are permanently-affixed, bar-coded, metal ID plates that actively deter…
see more vendors
Latest job
Director, IT Customer Support & Quality Assurance
Lead a customer service focused team providing end-user support across the College. Provide strategic leadership, planning and vision for the college's customer/end-user support functions that…
see more jobs