Katie Vale Memorial Scholarship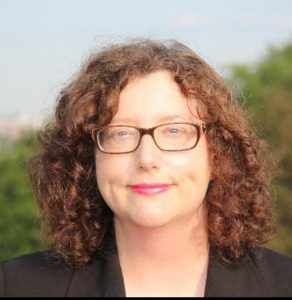 The Katie Vale Memorial Scholarship is awarded annually to a woman attending the NERCOMP Annual Conference who demonstrates a passion for the role of technology in higher education and embodies the characteristics of an emerging leader. The recipient will come from a NERCOMP member institution. The scholarship memorializes Katie Vale, who had a great passion for the role of technology and its ability to transform learning and the essential functions of the institution. It honors her commitment to mentorship and professional development of women in the technology-related fields of academics, information technology, and libraries.
Please submit your nominations by Wednesday, January 12 using the links below. Self-nominations are also accepted.
The award recipient will be notified by Monday, January 31, 2022, and receive the following:
Free registration for the 2022 in-person NERCOMP Annual Conference, including pre-conference seminars as well as lodging and travel expenses.
Recognition at the NERCOMP 2022 Annual Conference, highlighted on the NERCOMP website and featured in a NERCOMP press release.

Who was Katie Vale?
Katie loved learning and being a teacher. She had a foot in the classics with her love of Latin and archeology and in the future with her career in technology, having worked with educational technology since the 1980s when she attended Brown University as an undergraduate. At Brown, she contributed to the formative field of hypertext which eventually lead to the Web and Internet as we know it today. Throughout the years, she never lost sight that the goal of technology was to help enhance our capacity to learn and understand and not the technology itself.
She was a mentor to many in higher education and gave of her time selflessly for others when they needed counsel.
In 2015, Katie proudly joined Bates College in Lewiston, Maine as the vice president for information and library services and librarian, a role and school that culminated the many threads, passions and qualities of Katie's career. Bates President Clayton Spencer shared these wonderful words when informing the community of Katie's passing:
"Katie joined Bates 15 months ago, and she quickly proved herself to be a strong and creative organizational leader, a wonderful, collaborative colleague, a professional of enormous breadth and intellect, and a person possessed of quick wit and self-deprecating humor. She was a national leader in educational technology and a valued member of the senior leadership team."
Throughout her career, Katie found that the connections she made at NERCOMP helped her immensely as she navigated each new step of her career. This scholarship, named in her honor, aims to support a new generation of women finding similar support in their academic technology careers