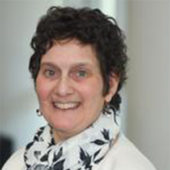 Dr. Sleeman is a Technical Program Facilitator for Business Analytics at Southern New Hampshire University (SNHU) Global Campus where she is involved in program development for online graduate programs and concentrations in Business Analytics. As an Adjunct Professor of Data Analytics, she is a Subject Matter Expert in Data Analytics, Data Science, and Business Analytics. She is proud of SNHU's mission of providing affordable and accessible higher education and encouraging professionals to expand their capabilities.
She began her career as a programmer/analyst for a Naval war gaming system after completing her B.S. in Mathematics at the University of Vermont and her M.S. in Computer Science at Monmouth University. While designing and coding simulations for acoustic data as a computer engineer for the Navy, she completed her Ph.D. in Applied Mathematics at Drexel University. During her industry career, she has worked in commercial, government, and academic settings on projects involving satellite telecommunications, cable system capacity planning, mobile systems design for emerging international markets, secure communications, mobile data analytics, adaptive learning, and generating insights for financial services. She has numerous publications and is the co-author of two books on research methods. She has presented her work at international conferences.
Candace is passionate about innovation and technology. As an industry Data Science leader, her specialties include big data architecture, data mining, machine learning, and artificial intelligence. She is bringing this expertise to higher education to train the next generation of experts as they compete in the global marketplace. She is active in the
Innovation Community of Practice at SNHU, ACM SIGKDD, Open Data Science Community and INFORMS. As a member of the Board, she is Treasurer and involved in the Leadership Ecosystem, Professional Development, Vendor Licensing, and Data Task Force committees.