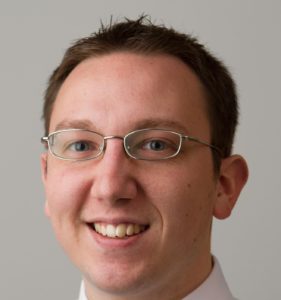 Jeremy has been the Deputy Chief of Analytics and Technology Transformation at Bay Path University since 2016. He provides leadership and change management in the areas of analytics, data infrastructure, institutional research, CRM systems, instructional design, online faculty development, and online support. Jeremy has overseen initiatives for launching dashboards, designing homegrown predictive analytics, expanding CRM usage institution-wide, and scaling adaptive learning and OER adoption.
Most recently, Jeremy has been working with the Analytics and Innovative Technology leadership team to merge central IT, a decentralized IT team, and institutional research into a unified division. He is directly responsible for directing the incorporation of tier one help services and of the analytics, IR, and data teams. Throughout, Jeremy has promoted lean and agile principles to improve continuously the efficiency and effectiveness of support services and development for students, faculty, and staff.
A passion for expanding access to high-quality education has driven his broader efforts to share best practices with colleagues. Jeremy has served on the IMS Global ILN on adaptive learning, the Northeast OER Consortium conference planning committee, and NERCOMP's V&L Committee and Conference Planning Committee. He has written, presented, and conducted workshops on the topics of data-informed student support and course design, the efficacy of adaptive learning and other educational technologies, OER adoption, and professional development for faculty and students.
Prior to starting a full-time career in higher education, Jeremy was a high school history teacher and part-time instructional designer. He earned his BSEd in history and social science education from Central Connecticut State University, MS in educational technology from Eastern Connecticut State University, and EdD in interdisciplinary leadership from Creighton University.
Outside of work, Jeremy volunteers as a member of the board of education and contributes to planning community-wide DEI initiatives in his hometown. He also participated in the strategic planning process to deliver a five-year plan for the school district.
Being new to the board, Jeremy looks forward to working with colleagues on the board and in the community to sustain and enhance the vibrancy of NERCOMP.