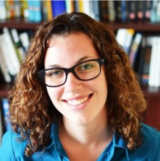 Jessica began her career as an ESL instructor and was quickly drawn to data-driven course design and ways instructional technology can enhance teaching and learning. She currently serves as the Coordinator of Instructional Design with Holyoke Community College (HCC) where she supports over 300 faculty members. She coordinates professional development, conducts training, and works directly with the areas of curriculum development, faculty training, strategic planning, and assessment. Jessica also serves on the MA statewide OER Advisory Council and coordinates OER initiatives within HCC's Center for Excellence.
In addition to serving the HCC community, Jessica also teaches online English composition courses (with OER textbooks she wrote herself!) and within the Women as Empowered Learners and Leaders (WELL) program at The American Women's College at Bay Path University.
Jessica is an active member within the NERCOMP community and aims to present 3-4 collaborative webinars per year. She is one of three community of practice leaders for instructional design, serves as a mentor for new presenters, and supports the development of workshops as a professional development coordinator.
Jessica is a first-gen community college graduate and strongly believes in equity-driven curriculum design and culturally responsive pedagogy. She enjoys working with faculty to bring their vision to life within hybrid, online, and adaptive learning environments. She is a mother of two girls and enjoys yoga, hiking, painting, reading, and writing OER materials.
As a new member of the board, Jessica hopes to reinforce connections across the state and opportunities for cross-campus collaborations.