Scholarship Award Announced
Katie Vale Scholarship Award Recipient:  Shauna'h Fuegen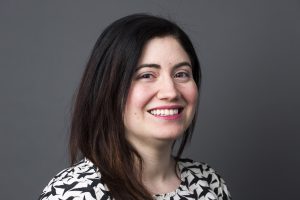 NERCOMP is pleased to announce Shauna'h Fuegen as the recipient of this year's Katie Vale Memorial Scholarship.
Shauna'h Fuegen embodies the very qualities that the Katie Vale Memorial Scholarship honors and promotes - a passion for the role of technology in higher education, mentorship of women in information technology and possession of emerging leadership skills. Shauna'h is a key member of Curriculum and Research Computing at Bates, and she sets the standard for professionalism in our group. She performs her duties with diligence, thoroughness and passion. She provides, moreover, campus leadership in a range of areas from GIS support to e-Portfolios in teaching and learning. Shauna'h also maintains a high profile in our profession: she sits on the EDUCAUSE Young Professionals Advisory Council (including contributing to the Young Professionals Advisory Council's publication "10 Things I Wish I Knew When I Started My Career" [2018]) and has presented at the EDUCAUSE Annual Conference. This professional development in turns has positioned her to mentor junior colleagues at Bates, which has successfully recruited several women for academic technology jobs due to Shauna'h's commitments. She very much models the very qualities that Katie Vale Memorial Scholarship honors. (Text submitted by Michael Hanrahan of Bates College.)
Please join us in congratulating Shauna'h on this accomplishment.