Collaborative Solutions
Collaborative Solutions, a Cognizant Company, is the largest Workday HCM, Financial and Student Transformation consultancy in the ecosystem. As the longest-tenured Workday Services Partner and customer, our full lifecycle services have helped more than 825+ customers transform their businesses. Our unique and unparalleled combination of notable higher education industry experience, a strong culture, the most credentialed Workday Implementation Team, and our proven Cynergy methodologies contribute to our unparalleled success.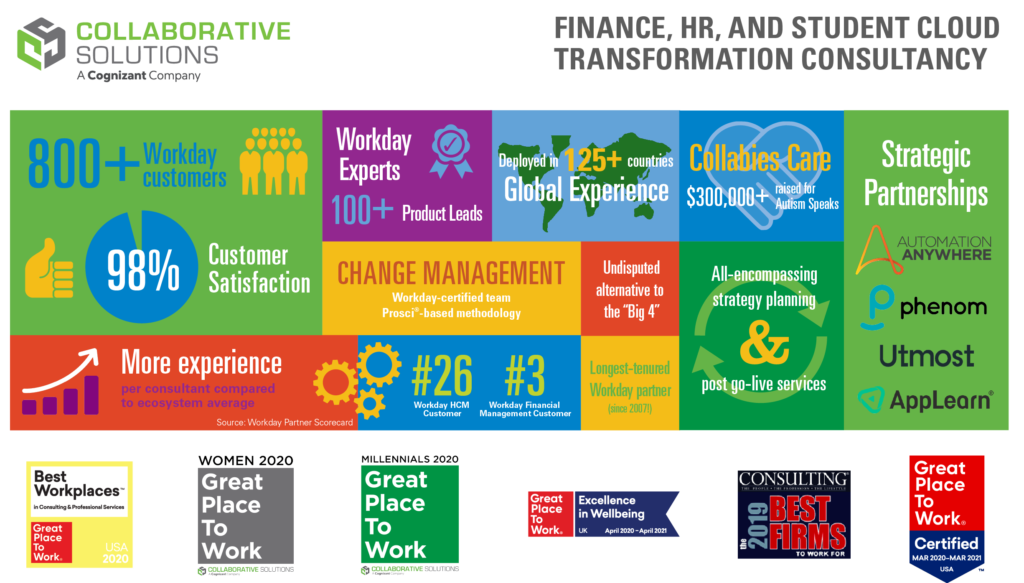 Collaborative is uniquely positioned to partner with NERCOMP member institutions as their premier Workday Services Partner, highlighted by the following:
·       Experience in Higher Education – Collaborative's business started 17 years ago with a focus on Education and Government customers, and since then we have steadily built our higher education consultancy. We are proud of the work we have done with 60+ Workday institutions.
·       100% Workday-Focused Practice and 100% Deployment Success – Because our business is a wholly dedicated Workday consultancy, the commitment we bring to each Workday implementation simply cannot be matched by any other partner firm. Our business depends on each and every one of our customers successfully deploying Workday on-time and on-budget. Collaborative is proud of our 100% deployment success and 98% customer satisfaction.
·       Depth of Workday Experience – With 850+ Workday consultants, averaging 3.4 year of Workday experience, Collaborative has the most proven and knowledgeable Workday practice in higher education. Additionally, we have more product leads than any other partner in the ecosystem, working with Workday to inform their product roadmap. Because of our deep experience with Workday, we offer NERCOMP members the advantages of a firm with the largest and most experienced team of Workday consultants.
·       Breadth of Services – As a full transformation consultancy, we offer services for Strategic Planning & Readiness, Deployment/Implementation, Organizational Change & Training and Post-Production support, all staffed with Workday certified consultants.
·       Longevity in Workday's Partner Ecosystem – As one of Workday's first customers and its longest tenured partner in the Workday higher education market, we have been intimately involved in shaping their innovative solutions. The professional services Collaborative offers leverage our 17 years as a focused full-service HR, Finance and Student transformation consultancy to address customer specific organizational and business requirements.
·       Award Winning Culture – Collaborative invests in their employee's professional development and overall well-being. We are proud that our workplace and company culture have achieved top honors from organizations including Fortune Magazine, Consulting Magazine and more.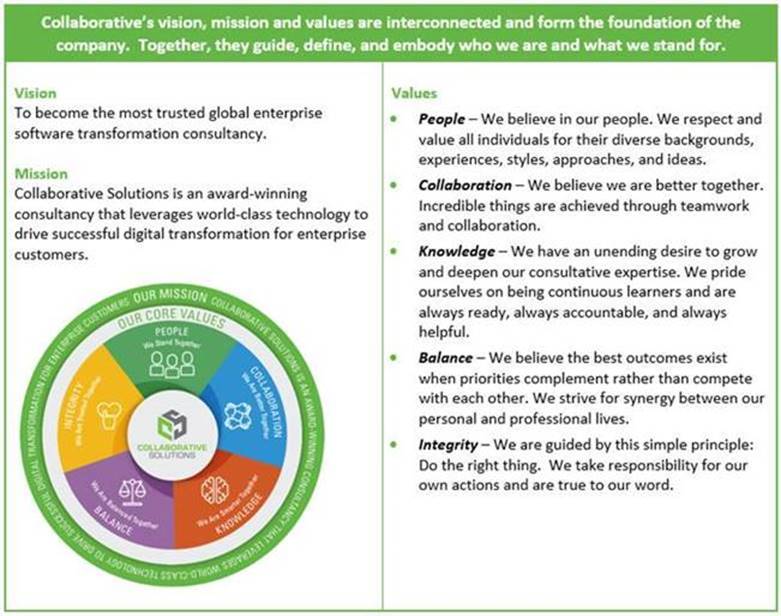 Resources:
Workday Student Readiness Workshop Datasheet