Foxit Software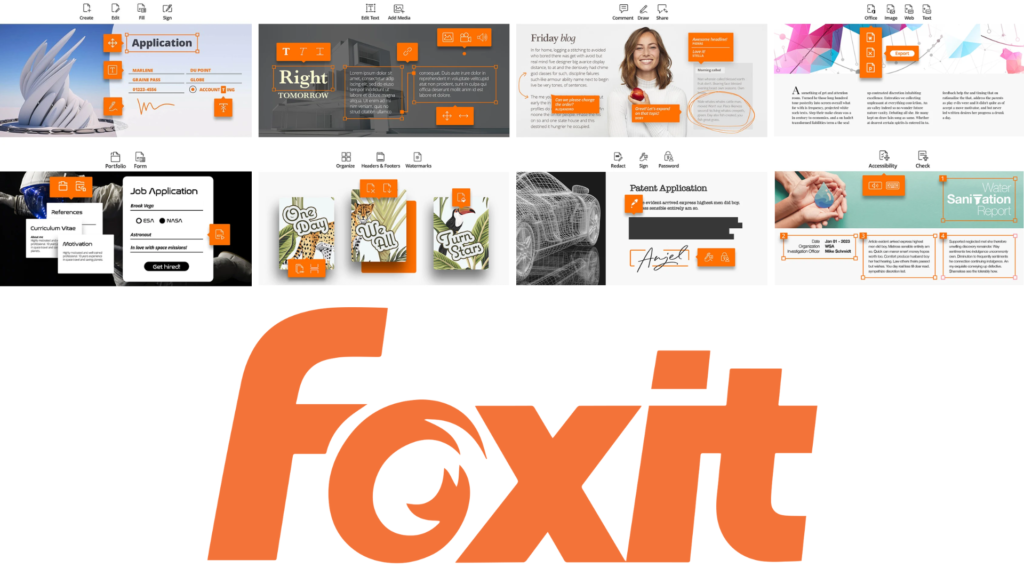 Description: PDF is the most versatile and most commonly used file format on the internet. Chances are your computer is full of them! But aside from just opening them and viewing them, there is so much more you could be doing, including creating and editing PDF content, making a PDF file secure, accessible and interactive, sending signature requests, scanning images into searchable text, converting to and from PDFs and other formats without breaking the layout, and other advanced features often needed by faculty, staff, administrators, and students alike, that can save time, save money, and improve productivity.
If you are looking to achieve or accelerate your paperless work and learning environment, you need to consider Foxit as your digital document partner.
Foxit PDF Editor | DISCOVER BETTER
Foxit PDF Editor is the digital document solution you need to create, edit, organize, and share accessible PDFs as easily as using a word processor. Native integration with popular productivity applications like Google Workspace, Microsoft Office, top LMS platforms, and more, allows Foxit to fit seamlessly into your existing workflow. Foxit PDF Editor offers a clear, user-friendly Ribbon-style toolbar—similar to the Microsoft Office user interface. This enables an intuitive user experience and quick adoption with a short learning-curve.
By choosing Foxit PDF Editor, you get a cost-effective, full-featured PDF editing solution built on the leading PDF technology.
Other highlights include:
Accessibility tools to ensure your documents comply with ADA and Section 508 technology standards.
Document protection tools like smart redaction, encryption, and Azure Information Protection.
SOC 2 certified, and HECVAT A-Rating.
Access to video tutorials, professional development webinars, live training options, and 24/7 support.
Flexible and affordable yearly subscription plans with no mandatory multi-year commitments.
Join over half a billion users that have chosen award–winning Foxit products to achieve their paperless office strategy. Find out why they rely on Foxit as their partner when it comes to their PDF needs and increased productivity.
NERCOMP Partnership Agreement
The Foxit and NERCOMP solutions partnership provides a significant discount to NERCOMP members that goes beyond the discounts already offered to educators and education institutions by Foxit.
Save Even More... 
Lower your costs per license when you purchase in volume. You can centrally manage and update all of your Foxit licenses and users with a free Admin Console. Purchasing in volume also enables your IT to build standardized installation images, and keep track of installs throughout all divisions on campus.
Ask about our Free Student License program!
Currently in a contract with another software company or want to pilot the software with your colleagues? No problem. You may qualify for FREE campus-wide deployment of Foxit PDF Editor, as many licenses as you want, for up to a year! Give your users more time to transition. Schedule a free consultation to get started.
Schedule a Free Consultation / Demo
https://calendly.com/foxitedu/foxit-30-minute-meeting-nercomp