NERCOMP Mentorship Program

Webinar Recording: An Introduction to the NERCOMP Mentorship Program
This term's application deadlines are:  
Friday, September 22nd: Mentor and Small Group Facilitator Applications Due
Wednesday, September 27th: Mentee Applications Due
Overview
The NERCOMP Mentorship Program was developed in response to member interest expressed in a membership professional development survey conducted during the winter of 2021/2022.   The Mentorship Program aligns with our mission, offering members a platform to engage in ongoing learning and professional growth and highlighting our commitment to providing quality professional development opportunities and fostering a vibrant community of IT professionals.
The NERCOMP Mentorship Program aims to:
Foster professional growth and learning opportunities for NERCOMP members.

Create a supportive environment where members can gain valuable insights, enhance their skills, and build meaningful connections.

Empower mentees to excel in their roles and contribute to the advancement of information technology in educational institutions by leveraging the collective expertise and experience of mentors.

Provide members an opportunity to connect with mentors, access resources and support, and collaborate with peers who share their passion for information technology, teaching and learning, and/or libraries.

Leverage the diverse knowledge and skills within the community to empower members and drive innovation in educational institutions across the NERCOMP region.
What makes a NERCOMP Mentorship unique?
The NERCOMP Mentorship Program offers two distinct options:
One-to-one mentorships

Small-group mentorships
Participants also benefit from some unique aspects the program offers, including: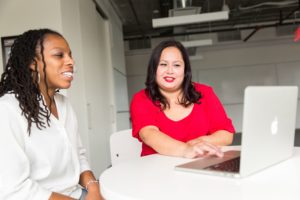 Time commitment/Expectations:
Varies from 1-3 hours per month 

Meeting at least one time per month
One-to-one Mentorships
The one-to-one mentorship pairs a mentor, who is an experienced professional, with a mentee seeking guidance and support in their professional journey. This format allows for personalized attention and tailored guidance to address specific needs and goals.
Outcomes
Participants in the one-to-one mentorship program will see the following outcomes:
Support outside of your organization within a regional framework

Two-way ownership of the relationship 

Relationship development for 3-6 months and beyond

Development of emotional intelligence components 

Gain knowledge of NERCOMP offerings
Roles & Responsibilities for Mentors:
Maintain "grounding" in the relationship (professional/appropriate)

Set boundaries re: expectations for engagements/relationship management/mentee progress

Establish confidentiality

Be present and authentic

Attend and engage

Make a commitment to the program

Educate Mentee about Emotional Intelligence if applicable

Educate Mentee about NERCOMP offerings if applicable

Become familiar with the NERCOMP Mentor Resources and Toolbox

Reciprocity:  Be open to learning from the Mentee
Roles & Responsibilities for Mentees:
Build trust

Establish a connection with Mentor

Be intentional to get the most out of the experience

Be open to experience and exploration

Be present and authentic

Attend and engage

Be open to learning from your mentor; allow for a reciprocal relationship. It is bidirectional, not hierarchical or one-direction

Initiate communication

Ask for support; ask questions based on needs and interests

Communicate in a way that best supports you

Commitment and confidence – curious to make connections, confidence in own development, and be vulnerable
Small-group Mentorships 
Facilitated small-group mentorship settings bring together mentors and mentees with shared interests or focus areas, enabling them to collaborate, share knowledge, and learn from one another. This approach promotes peer learning and networking within the NERCOMP community.
Outcomes
Participants in the small-group mentorship program will see the following outcomes:
Support outside of your organization within a regional framework

Networking opportunities 

Opportunities for collective wisdom

Development of emotional intelligence components 

Gain knowledge of NERCOMP offerings
Roles & Responsibilities for Mentors/Facilitators:
Help everyone connect, engage, and participate

The facilitator is a mentoring guide.

Cultivate collaboration and create collective wisdom

Facilitate technical and soft skill mentoring

An opportunity to give back

Establish engagement guidelines to encourage participation

Educate Mentee about Emotional Intelligence if applicable

Educate Mentee about NERCOMP offerings if applicable

Become familiar with the NERCOMP Mentor Resources and Toolbox.

Be open to learning from the group members/mentees
Apply to be a Small-group Mentor/Facilitator
Roles & Responsibilities for Small-Group Mentee/Participant:
Build trust

Be open to the experience

Be present

Attend and engage

Reciprocity - mentor your peers

Initiate communication

Commit

Communicate in a way that best supports them 

Also, realize that each person communicates differently

High level of curiosity, and interest in learning from others

Follow rules of engagement, confidentiality 
Apply to be a small-group Mentee/participant
Training Dates:
One-to-One Mentors: Monday, October 2, 2023: 11:00 am-11:30 am
Small Group Facilitators, Monday, October 2, 2023, 11:30 am-12:00 pm