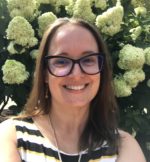 Katie is the Senior Manager for Client Relationships & Support at Bryn Mawr College. Also a graduate of Bryn Mawr, Katie started her professional career as the only professional staff member at the help desk. Through the years, her role has expanded to where she is today: responsible for a diverse team that provides support for a variety of College services including help desk, desktop support, and library circulation. At the heart of Katie's team and a constant focus of her career is an emphasis on and commitment to service and service experience.
At Bryn Mawr, Katie has been a part of a variety of department and college wide groups, focusing on topics like assessment, communication, and best practices for student employment. She is currently leading a matrix team that's focused on library service and planning and a series of smaller, topic-oriented groups that are focused on finding ways to improve and enhance the department's already robust culture of service. Though an introvert at heart, Katie is a true people person that has worked to intentionally find and create places where relationships are built, dialogue is encouraged, and everyone is made to feel welcome. Finding ways to connect with people and ideas (and to help others do the same!) is one of her true joys.
When she isn't working with her team to provide the best sustainable service to the College community, Katie can be found trying out new recipes, researching which restaurants to visit next, reading cozy mysteries, and dreaming of her next Disney vacation. She's probably also wearing Mickey ears.