Workday
You are invited to the Jeff Selingo and Workday hosted webinar on January 27th.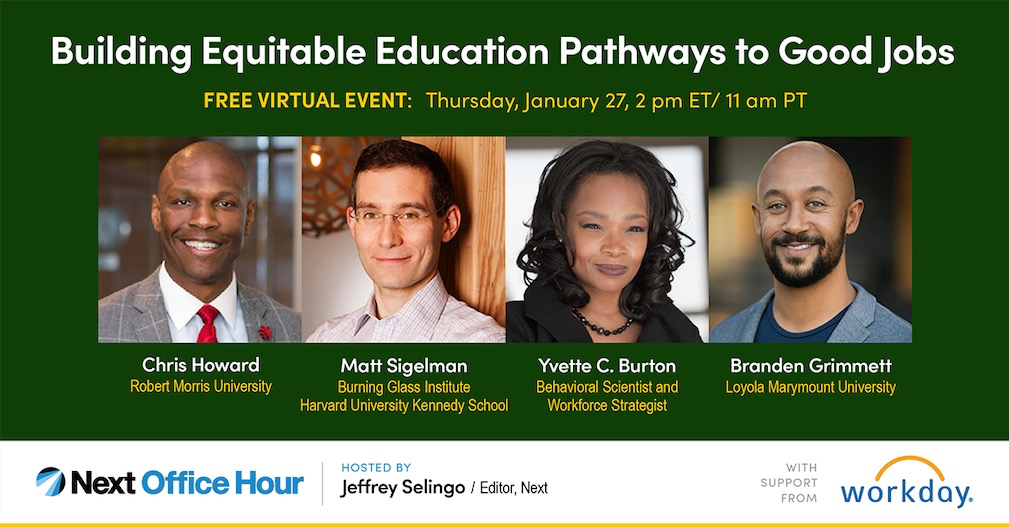 During this webinar, our panels will examine:
How Black and Hispanic students are disproportionately concentrated in majors with lower earnings, and the ways that contributes to their higher likelihood of being underemployed after graduation.
Why assisting students in securing internships can lead to them securing BA-required jobs after graduation.
What specific strategies and tools can institutional leaders use to make diversity, equity, inclusion, and belonging central to the student experience.
A Workday for Higher Education recent event included a student panel, where students explained common challenges within digital services and how Workday Student has simplified many of the past pain points.
 Direct link to YOUTUBE
NERCOMP is pleased to announce a new 3 year contract with Workday!
Workday is an end-to-end, unified cloud platform consisting of financials, HCM, payroll, student, grants, planning, and analytics functionality. Designed for today's mobile generation, Workday delivers a superior alternative for modern colleges and universities still using outdated legacy technology to run their campuses. Workday unites the entire campus under one modern, configurable, easy-to-use application that delivers rich analytics and insights to help you achieve your institutional goals.
Workday Student, the latest application to be delivered, is a full lifecycle solution that includes Student Recruiting, Student Admissions, Curriculum Management, Student Records, Academic Advising, Financial Aid, and Student Financials. The only higher-education-focused application built in this century, Workday Student was released in a phased approach in fall 2014 and was made generally available in fall 2016. All or part of Workday Student is currently in full use or in the deployment/planning stages at more than 60 institutions.
Founded in 2005, Workday serves more than 140 higher education institutions that range in size from small liberal arts colleges to large public research institutions and state systems. Here in the northeast, higher education institutions such as Amherst College, Babson College, Bentley University, Berklee College of Music, Brandeis University, Rhode Island School of Design, Simmons University, Smith College, Suffolk University, Wellesley College, Worcester Polytechnic Institute, and many others are realizing the benefits of unifying financial management, human capital management, payroll, student services, faculty engagement and business intelligence in one modern, agile, easy-to-use system.
Workday DEI Policy: https://www.workday.com/en-us/company/about-workday/belonging-and-diversity.html
Workday Accessibility Policy: https://design.workday.com/guidelines/accessibility/overview