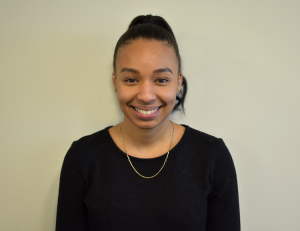 NERCOMP is pleased to announce Deanna Malloy as the recipient of this year's Katie Vale Memorial Scholarship.Deanna is a rare find in Higher Ed Tech.
Deanna joined Hofstra as an instructional technologist after graduating from Stony Brook in 2013 and quickly gained a reputation among the faculty for innovation and technical excellence. In addition to her work designing and sustaining sophisticated systems for disciplines in engineering and various sciences, she pursued and, in 2017, completed her MBA with a focus on business analytics. Her work and academic success are impressive, but they're not why she stands out to me as the CIO among a team of more than 80 professionals. Deanna stands out because she has consistently demonstrated the leadership and interpersonal skills necessary to work collaboratively with our best and toughest faculty. Deanna knows how to combine her professional excellence and interpersonal talents to create happy academic partners and solid technical solutions. Deanna brings her innate understanding of people, her life experience, kind nature, and her keen technical and analytical skills together every day to move through the sorts of planning, design, and implementation challenges that leave most folks scratching their heads. She is a natural leader to her peers, who constantly look to her for advice and counsel. Deanna will, as Katie did, continue to demonstrate her commitment to her field, her colleagues, and to higher education.
Please join us in congratulating Deanna on this accomplishment.