featured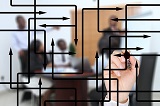 Taking Management Skills to the Next Level: Exploring Topics in Strategies and Leadership
June 11 - 12, 2018
Norwood, MA.
Exploring Topics in Strategies and Leadership are intended to provide experienced managers with insights into broad categories of challenges in higher education through small and large group discussion, scenarios, case studies and hands on activities.  The categories of challenges are relevant with the library and information technology spheres as well as across the entire institution.  These sessions will provide the participants with the opportunities to think through the challenges, problem solve with peers and learn strategies and techniques that can be taken back to campus.
This two day event will be held June 11 through June 12, 2018. There will be a reception following the June 11th session. Each day's program will run from 9:00am to 4:30pm.
Click on 'Learn More' for details and to register.
About Us

NERCOMP cultivates communities of practice around information and technology, promotes strategic partnerships, and advances innovation and leadership in educational institutions across the Northeastern United States.
Learn More About Us
Our Vendors

Info-Tech Research Group
This program is a mechanism for collecting critical feedback from end users…
see more vendors
Latest job
Electronic Resources Librarian
Electronic Resources Librarian Healey Library University of Massachusetts Boston Reporting to the Head of Library Systems and Discovery Services (LSDS), the Electronic Resource Librarian is…
see more jobs