Katie Vale Scholarship Award Announced
featured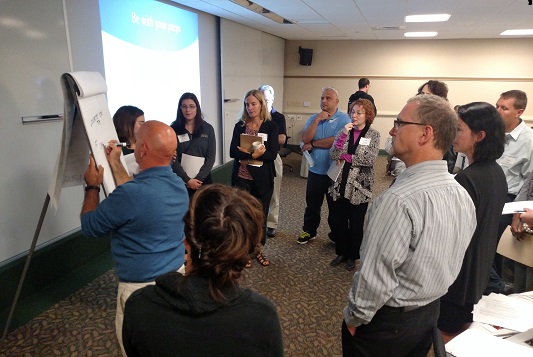 Idea Generating Day
April 12, 2019
College of the Holy Cross, Worcester, Massachusetts
Want to become involved with NERCOMP? Join your colleagues for a fun day of planning the Professional Development Opportunity (PDO) Event Calendar for September 2019 through June 2020. Everyone is invited to attend the free event and participate in the conversation.
Every year NERCOMP Members from across the region come together for a day of sharing and conversation to plan the PDO Event Calendar for the upcoming year. Attendees collaborate to shape the topics and schedule, by reviewing submitted proposals as well as identifying hot topics and emergings themes.
Everyone who wants to be involved is welcome. The Idea Generating Day is a great place to help NERCOMP determine learning opportunities for the upcoming year, brainstorm new ideas, and network with colleagues. If you have been thinking about learning more about NERCOMP, this is a great place to start even if you do not submit a proposal.
About Us

NERCOMP cultivates communities of practice around information and technology, promotes strategic partnerships, and advances innovation and leadership in educational institutions across the Northeastern United States.
Learn More About Us
Our Vendors

Microsoft Campus Agreement
The NERCOMP/Microsoft Campus Agreement Program is among NERCOMP's most popular membership benefits.…
see more vendors
Latest job
Senior Software Engineer
This is an 18 – month term position with the possibility of extension. Reporting directly to the Assistant Director Educational Technology Systems & Services, the…
see more jobs